In the past few years, the MMORPG landscape has changed quite a lot, with numerous paid games going free to play, but this doesn't necessarily mean that it's a bad thing. Instead, free to play games have evolved quite a lot and managed to provide an amazing experience, as you will see from this Tera Online review.
TERA Online story
The story in this game is far from being complex. In fact, it's quite cliché and relies on the constant battle between good and evil. You are sent to continuously scour the land and find new opportunities to defeat an ancient evil that has attacked territories. The story has its moments when it's more complex, but overall it's just a premise for the great gameplay.
TERA Online gameplay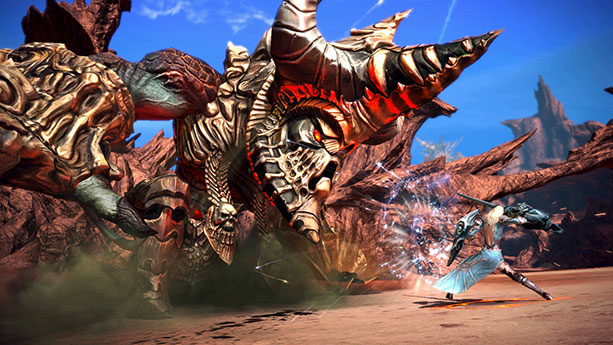 Upon entering the world of Arborea, you can choose from a variety of races. While working on this Tera Online review, we focused on Baraka and Human, but you can also choose Castanic, Aman, High Elf or Popori. The interesting thing is that the classes are diverse and each one of them has a great, different set of attacks that you will enjoy. You can also choose out of 8 different classes, so you can experiment quite a lot as you try to get the best results.
Customization is the key in Tera Online, and you have a multitude of things to modify here, from appearance to the things that your character is wearing.
Combat is definitely the most appealing thing, based on the gameplay we experienced. TERA focuses on removing the autocombat. Instead, it provides us with a real time combat system that works seamlessly and which provides us with numerous opportunities.
Quests in TERA Online are a little repetitive, to be honest, because most of the time you just need to go onward into the game world and fetch items or gather stuff as you explore. Still, there are lots of things to do here, and if you play with others it can be pretty fun. There are some quests that stand out, though, such as the one where you need to climb some vines in order to reach an artifact, but these are rare, unfortunately.
We liked the fact that the inventory is easy to manage, and browsing through the items is a delight. Also, it's nice to see that there are numerous traders scattered throughout the land, and each region is so massive that you will spend at least 10 hours in each one of them. Not to mention that you can always come back via the impressive portals. Speaking of them, these can only be accessed via mounts!
Fate of Arun and what it brings new to TERA Online
Fate of Arun is the latest expansion for TERA. It increases the level cap to 65, provides new skills for the classes, and also receives a variety of new regions and dungeons, as well as some bug improvements and a competitive region for PVP.
The new expansion isn't flawless, it doesn't manage to repair all the bugs, but it does manage to bring some new and awesome stuff, and in the end this is all that matters!
Here's a Fate of Arun gameplay video you can watch:
Graphics and sound
This is one of the best MMORPGs when it comes to graphics. We witnessed some amazing regions and great character design that are hard to find in many other similar games. There's a ton of detail placed in literally anything you can find in this game, and the experience benefits a lot from that.
The sound is also pretty good, with some angelic music, as well as great action themes scattered within the game world. The voice acting is good too, each character receiving a strong and impressive voice.
TERA Online system requirements
Minimum system requirements:
OS: Windows XP (only 32 Bit), Vista, 7 or 8 (newest service pack);
CPU: AMD Athlon64 3200+ or INTEL Pentium4 3.20GHZ;
RAM: 2GB;
Hard Drive Space: 50GB (for digital edition) or 30GB (Standard version);
Graphics: ATI Radeon X1600XT or NVIDIA GeForce 7600GT;
DirectX 9.0C or higher.
Recommended system requirements:
OS: Windows 7 (newest service pack);
CPU: AMD Athlon 64 X2 6000+ or INTEL Core2 Duo E6750;
RAM: 4GB;
Hard Drive Space: 50GB;
Graphics: ATI Radeon HD 3870 or NVIDIA GeForce 8800GT;
DirectX 9.0C or higher.
You can also use this online tool to check if you can run the game on your PC.
Conclusion
As you already noticed from this Tera Online review, the game does manage to provide a lot of variety and content; all of this being combined into a visually appealing package. The game is very good, and you can rest assured that once you enter it, you will be amazed at how unique and diverse the experience is. TERA Online is a game that you do not want to miss!
Rating: 8.5/10
Hope you enjoyed our review! If so, share it with your friends!