Most MMORPGs nowadays tend to be restrictive when it comes to the experience they provide, so when I found out the huge amount of features included in ArcheAge, and the freedom it provides, I took that information with a grain of salt, as you will see in this ArcheAge review.
To be honest, the game really blew me out of the water when I noticed its great customizability and the huge array of missions!
ArcheAge Story
The story in ArcheAge isn't that impressive… You will need to do whatever it takes to combat an ancient evil, something that has been done for a very long time. However, there are portions in which the story does manage to shine, especially when it introduces new characters.
The main focus in the game is on exploration, with the story being used as a background. Still, it's nice to follow the story if you want, as you can level up rather quickly.
ArcheAge Gameplay
Right from the start, ArcheAge is very easy to understand and play. There are 4 races that you can choose from, and each one of them provides you with a lot of variety when it comes to abilities and skills. Sure, some of them might be restricted to certain classes, but the experience is still really exciting and quite interesting right from the start, something I know you will enjoy for sure.
In my opinion, the classes and skill sets in this game are one of the best parts, mainly because they provide a lot of variety and a different appeal when compared to other MMORPGs. Alongside archery or melee, you can also use the occult forces, which is a plus for an MMORPG.
You can go anywhere you want, when you want, in ArcheAge. There are missions, but you are free to explore the world in any way. Moreover, you have a lot of professions to choose from. Each profession allows you to create something and then trade it for the money you need in the game world.
You can even create your own home. Once that is done, you can further expand your territory, which means fun and development. I also liked the fact that you can have a farm plot, either your own, or in the public farms.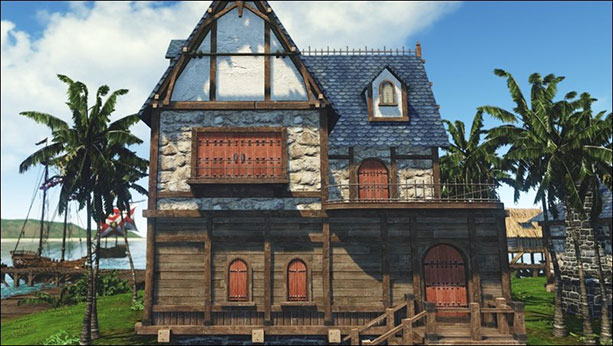 When it comes to quests, ArcheAge could be better, to be honest, because these aren't as fleshed out as in other MMORPGs, but then again, ArcheAge is a sandbox experience, so the quests are only supposed to guide you through the game world, nothing more.
There's some good PVP action as well. You're not restricted to a region, so you can go wherever you please and combat anyone in order to get the sweetest loot. In fact, the best experience I had was while fighting other people, although the combat in ArcheAge relies on simple button mashing, which is a little unfortunate, to be honest.
If you steal from others, you will go on trial and you will actually need to face jail time. This is funny, because your character will actually be locked behind bars for a certain amount of time.
The social aspect integrates seamlessly with ArcheAge. You have chat bars, friends lists, and the community is large, vibrant, always managing to help you whenever you need.
Graphics and sounds
The graphics in ArcheAge are quite nice, a lot better than many MMORPGs. While, in my opinion, it doesn't surpass TERA Online, it still is a good looking game with a lot of appeal.
Exploring the world is nice, and the best part about it is that the character design is detailed and the animations are very realistic, unlike other games.
Sounds could be better, but then again, you are free to use your own media player if you don't like them. Also, the voice acting is a bit bad sometimes, but there are a few characters, such as the quest givers, whose voices have an epic feel!
ArcheAge system requirements
Minimum system requirements:
Processor: Intel Core2 Duo or higher;
Hard Disk: 30 GB (NTFS-formatted disk);
Memory: 2 GB RAM;
Graphics card: Geforce 8000 series or higher, Radeon HD 4000 series or higher, with at least 512MB video memory;
Operating system: Vista SP1, Win7 SP1;
High-speed internet connection.
Recommended system requirements:
Processor: Intel Core i5;
Hard Disk: 40 GB (NTFS-formatted disk);
Memory: 4 GB RAM;
Graphics card: nVidia GTS250 1GB / Radeon HD 4850 1GB;
You can also use this tool to see if you can run it.
Conclusion
ArcheAge is the ultimate sandbox experience that you can enjoy by yourself or with your friends. It might not be the best MMORPG out there, nor the most visually appealing, but it comes with some great new concepts and it has a massive community, so you will surely have a great experience playing it.
I like it a lot and I come back to it often, and I bet most of you will do the same. It's a game that you will enjoy playing for dozens, or even hundreds of hours!
Rating: 8.5/10
Hope you enjoyed our ArcheAge review, and we hope we made you curious enough to check it out. If you do, please share your experience with us!